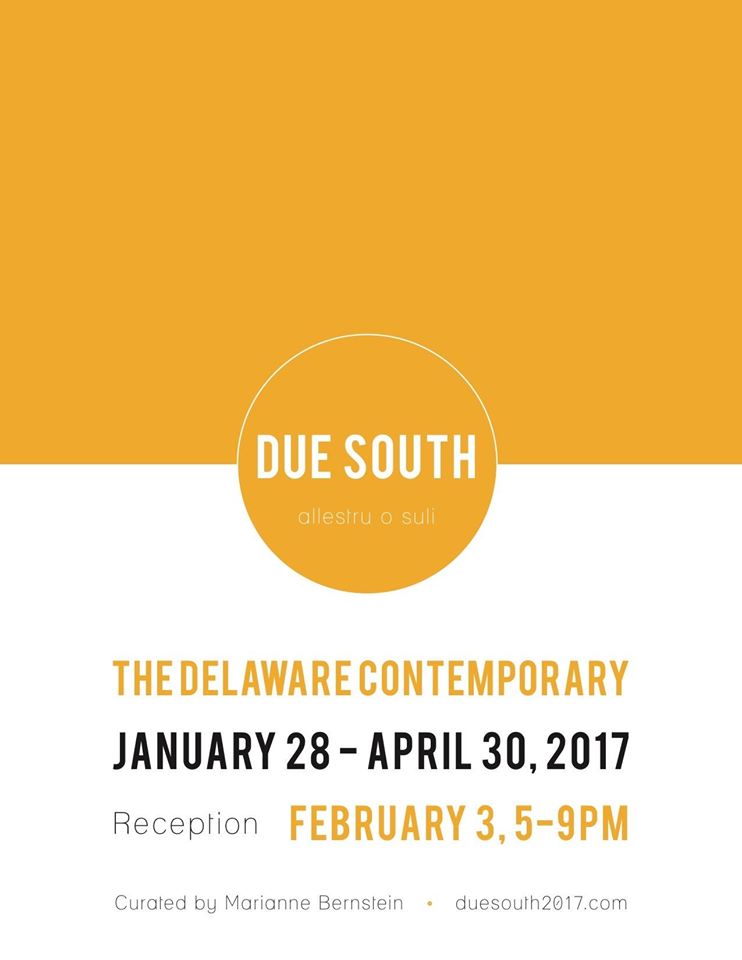 DUE SOUTH | curated by MARIANNE BERNSTEIN | JANUARY 28 – 30 APRIL, 2017 | THE DELAWARE CONTEMPORARY | Wilmington (Delaware) USA
JANUARY 28 – 30 APRIL, 2017
DUE SOUTH
curated by MARIANNE BERNSTEIN
Opening Reception:
Friday, February 3rd, 5-9pm
Press Exhibition Preview:
Wednesday, January 25, 4-6pm 
ARTISTS
Italian artists:
Gabriele Abbruzzese | Federico Baronello | Letizia Battaglia | Giuseppe Buzzotta | Glauco Canalis | Gabriella Ciancimino | Massimo Cristaldi | Flavio Favelli | Benoit Felici | Alice Guareschi | Carlo & Fabio Ingrassia | FILIPPO LEONARDI | Cristina La Rocca | Loredana Longo | Liliana Moro | Ignazio Mortellaro | Francesco Nonino | Marinella Senatore Massimo Vitali
US and International artists:
Marianne Bernstein | Cindi Ettinger | John Broderick Heron | Andrea Hornick | Jane Irish | Kelsey Halliday Johnson | Isaac Julien | David Scott Kessler | Zya Levy | Matthew Mazzotta & Sujin Lim | Andrea Modica | Petra Noordkamp | Serena Perrone | Alex Tyson | Lisa Wade | Midge Wattles | Steven Earl Weber
LOCATION
THE DELAWARE CONTEMPORARY
200 S Madison St, Wilmington (Delaware) 19801
USA
INFO
http://duesouth2017.com
facebook event
Thirty-eight international artists cross boundaries to reveal insider and outsider perspectives on Sicily, January 28-April 30, 2017 at The Delaware Contemporary.
Due South is an international exhibition focused on Sicily, encouraging global dialogue in a moment of heightened isolationism. The second in a quartet of volcanic island-based investigations curated by Marianne Bernstein, Due South brings together works by thirty-eight artists who have traveled or lived in Sicily. The multi-year project has initiated new work, while embracing collaboration, observation, and process. The resulting exhibition explores this enigmatic landscape through personal/geologic histories and multicultural influences.
In light of recent geopolitical and social upheavals, international dialogue is more pressing than ever before. By examining a place from both inside and out, the artists have created both intimate personal reflections and works suggesting that we all are foreigners somewhere. The recent refugee crisis has made many fearful of the mobility of foreign bodies, ideas, and cultures. Conversely, Due South seeks to explore the back and forth of both space and conversation: bringing artists across borders, and importing international perspectives back home.